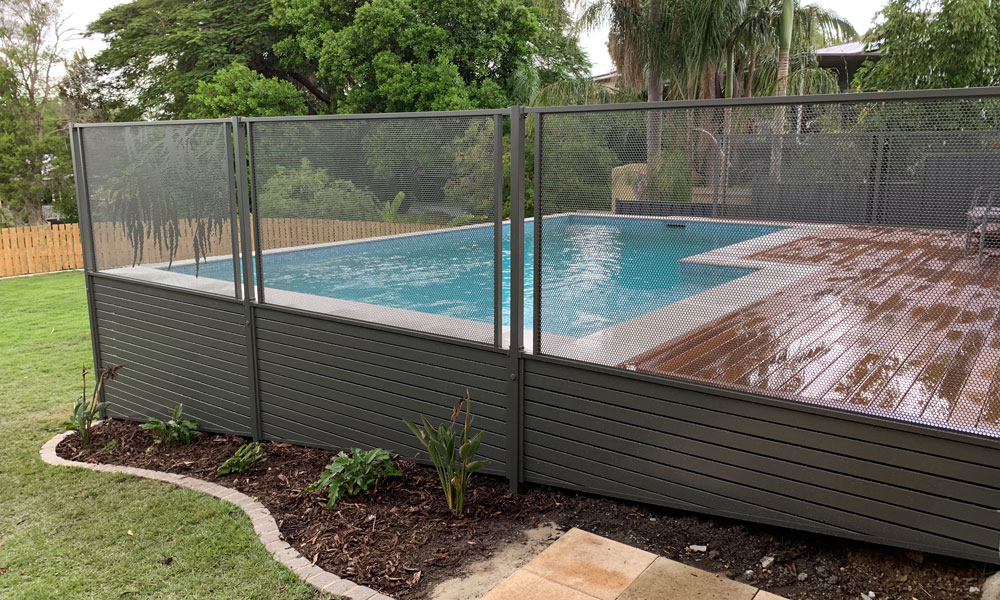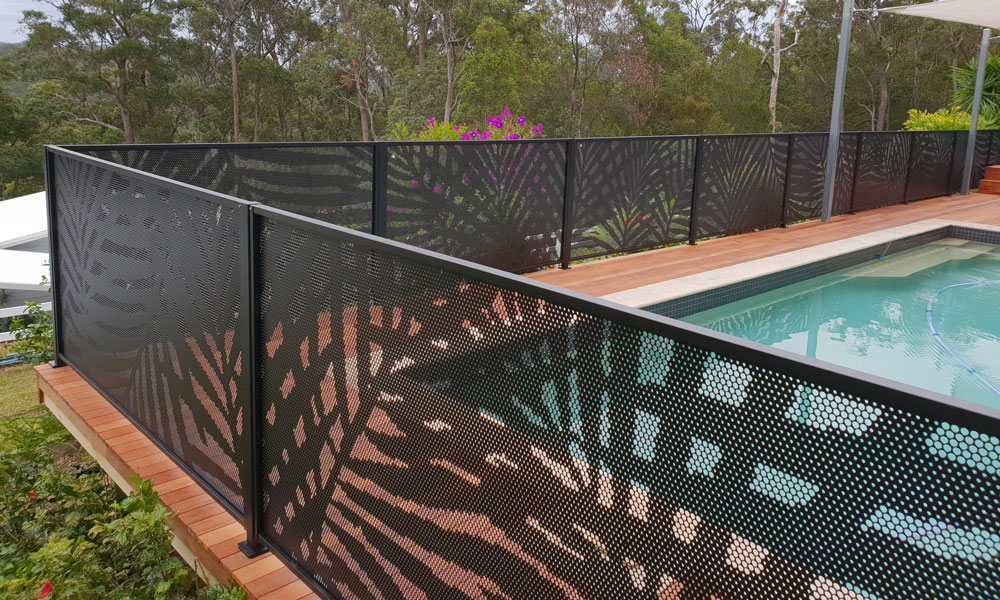 POOL PERF IS THE ORIGINAL AND MARKET
LEADER IN DECORATIVE SAFE AUSTRALIAN POOL FENCING

EXCLUSIVE POOL FENCING SOLUTIONS
Pool Perf is the market leader in decorative pool safe fencing
Easy to clean pool fencing is here. Pool Perf locally manufactures custom-made aluminum perforated pool safe pool fencing that has been tested to Australian standards and complies with Council swimming pool regulations AS1926.1
Change your view with a beautiful design or choose our Pure Perf plain screen, which allows for fantastic breezes, offers privacy, and is super easy to clean. We are the market leaders in pool privacy screens and laser-cut pool fence panel products. If you are looking for pool privacy ideas or plain pool mesh fencing, Pool Perf is perfect for you.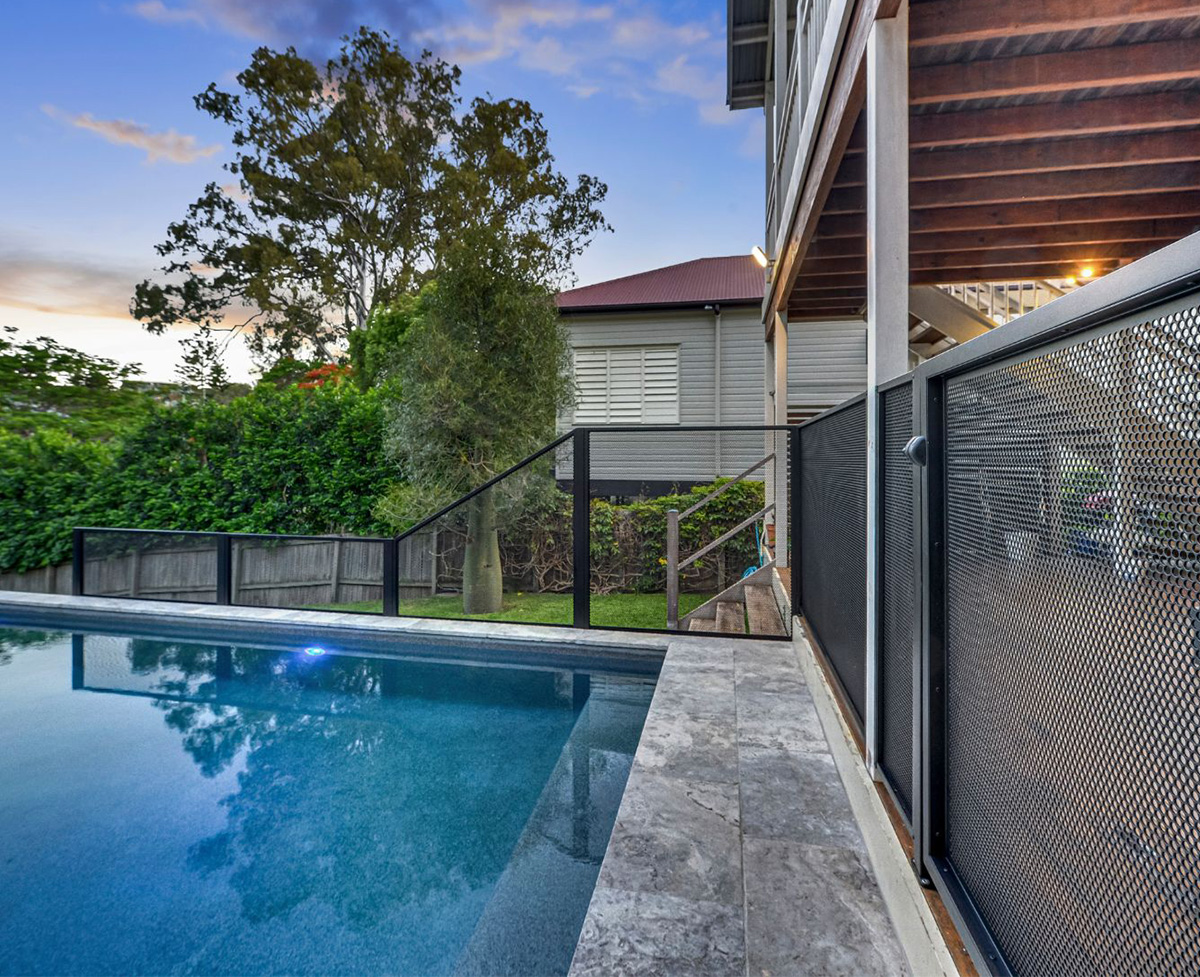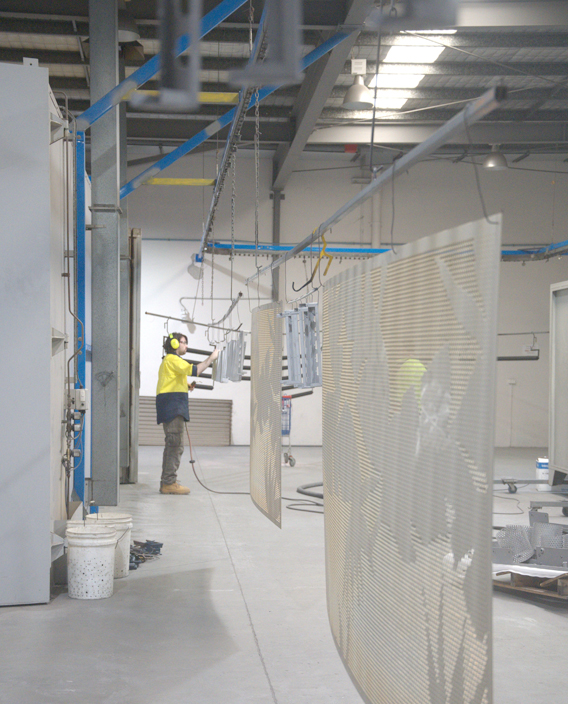 Australian Pool Fences that last forever
Corrosion resistant pool fence panels
Pool Perf manufactures custom-made aluminium perforated pool safe pool fencing that has been tested to Australian standards and complies with Council swimming pool regulations AS1926.1.
Bring the outside in without all the maintenance. Glass fences look great for a short time and then you spend the rest of your life forever cleaning them. With a Pool Perf Australian pool fence you can have it all. Change your outlook with a beautiful design or choose our Pure Perf plain screen, both allow fantastic breezes, offers privacy and is super easy to clean. The original and the best perforated pool fence, Pool Perf are the market leaders and the quality can't be dismissed. Create your own private oasis with laser cut privacy screens and pool fence panel products from Pool Perf.
Pool Perf is made from strong and very durable corrosion resistant 5052 marine grade aluminium material and then powder coated in our Dulux accredited powder coating facility. Don't accept any substitutes, our pool fence panels are made to withstand the harshest environments. If you want pool fence mesh, laser cut pool fence or pool privacy fence you can be assured it will last for years to come.
THE POOL PERF AUSTRALIAN POOL FENCE DIFFERENCE
01
Manufactured to last
Exclusive Australian made pool safe
aluminium extrusion, your Poolperf
Australian pool fencing is manufactured from corrosion resistant Marine Grade 5052 Aluminium and is built to withstand the harsh Australian conditions.
02
Tested and passed in a Nata Certified Lab for Australian Standards for Pool Fencing AS1926.1
Having a pool is one thing but having a safe pool is essential. Poolperf Australian pool fencing meet all standards and are approved by councils Australia wide.
03
Easy to Install
Can be installed using standard pool fence brackets or with our simple to install exclusive channel fit system. If you are looking for a project you could even install a Poolperf fence yourself.
04
Safe for the family
Panels are punched with our "Perf Safe" punch pattern to ensure that they cannot be climbed up. The 10mm diameter holes make it impossible for the little people of the house to find a way over.
05
Custom Design
The only limit to your new Pool Perf Australian pool fence is your imagination. Give your pool a custom look with a Pool Perf of your own design. Send your design thoughts to our team and we will turn your concept into reality.
06
The Original
The original and the best aluminium powder coated perforated Australian pool fence. Don't settle for second best for your family's safety, choose Pool Perf.
standard designs or let us create one for you
Any design can be made into your beautiful pool perf fence panel
Any design or silhouette can be made into beautiful Pool Perf, just send us an idea of decorative fence and we can make your concept a reality and you will have the best looking Perf Safe fencing on the block. Once your pool fence mesh panels are delivered you can have them installed in no time, Pool Perf pool safe fencing utilises standard industry brackets that simply bolt to your post or wall.
Rest assured our fencing products have been tested in a Nata Certified lab to make sure the pool fence panels comply to local Council regulations for pool safe fencing.
Our pool fence panels are made by punching holes no larger than 10 diametre to ensure they cannot be climbed. Contact us today to discuss your next decorative pool fence requirements.
Pool Perf VS Glass Fencing
Everyone wants to enjoy the confirms of their pool without the frustration of constantly cleaning and polishing glass panels only to have them dirty the next! With Pool Perf clever design system, you'll never have to clean glass pool fences again. Simply hose it off and you're done, it's as easy as that..
|   | PoolPerf | Glass Fence |
| --- | --- | --- |
| Feel The Breeze | ✔ | ✖ |
| Smash Proof | ✔ | ✖ |
| Transparent When Dirty | ✔ | ✖ |
| Australian Made | ✔ | Company Dependent |
| No Cleaning | ✔ | ✖ |
| Privacy | ✔ | ✖ |
| Easy DIY install | ✔ | ✖ |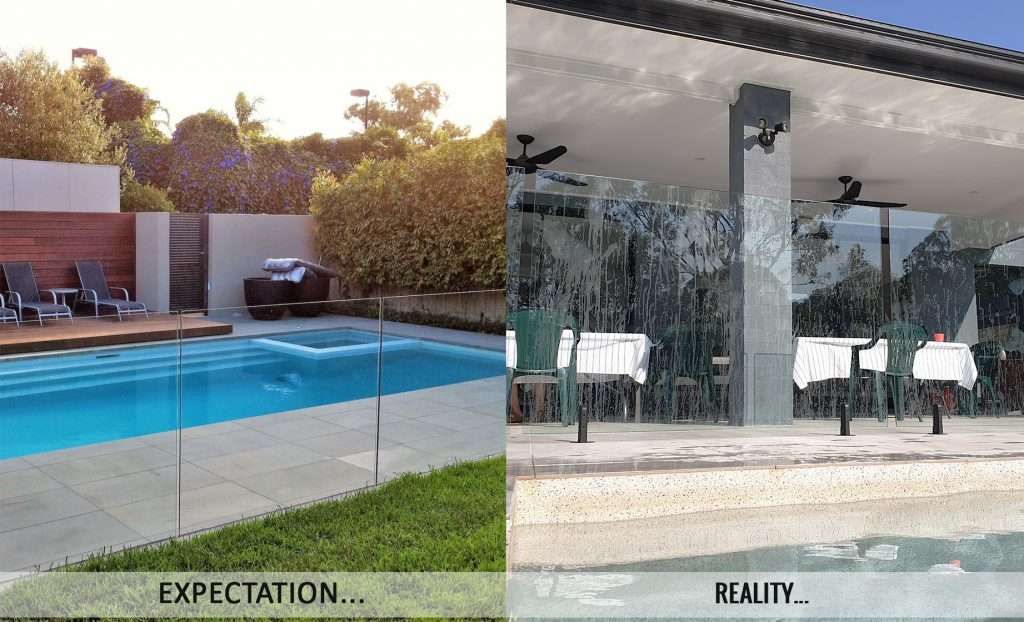 TESTIMONIALS
-David Black
Staff at Pool Perf very helpful in explanation of what they will supply and provide clear details of the items. Screens were packed with kid gloves that I believe no transport company could have damaged them in transit. More than pleased with my Pool Perf experience.
- David Black
– Michelle Fleming
I am a landscape consultant and I have to say that the quality of this product is outstanding. I will be recommending Pool Perf to potential customers into the future.
- Michelle Fleming
-Adrian Medcraft
Great fencing easy to install, looks amazing.
-Adrian Medcraft
– Greg
I chose Pool Perf as I wanted a low maintenance modern looking pool fence and something a bit more architectural from the normal glass. The product was very easy to install and looks amazing everyone is commenting on the look and style I would highly recommend Pool Perf for pool fencing, screens and panels . Great people to work with nothing was to much trouble .
- Greg
-Justin & Kelly Schipper
Brilliant product, exactly as promised and advertised. Fantastic quoting, production and delivery systems in place. Absolutely highly recommend.
-Justin & Kelly Schipper
-Sean Curran
Fantastic product and professional service provided at every stage. I am very happy with the fence and enjoy sitting on the deck and seeing it every day.
- Sean Curran
– David Garcia
Perfect service and product from start to finish. The staff members especially Josh were so helpful from the start, product came on time and well protected. Exceeded my expectations.
- David Garcia
– Natasha Spaull
Best customer service 👌 Josh & laura I thank you for all your assistance. Very happy with the product. Recommended.
- Natasha Spaull
– Jason Camilleri
My Pool Perf panels were made exactly to my specifications. The extreme care taken to protect the panels for transit was unbelievable.!! Well done guys.!!
- Jason Camilleri
– Lee Kingdom
The team are absolutely amazing to deal with and more than willing to go the extra mile to help out. The product is second to none, easy to install and every customer so far has been very happy with the product.
- Lee Kingdom
– Anonymous
Right from the first contact customer service was excellent, upon delivery the product was packaged as you would for 'Glass' each panel was separately wrapped and all items packaged to take into account transportation.
- Anonymous
– Rowena Golledge
Thanks to all the team at Pool Perf! All aspects of the design and quote were outstanding. We ordered 13 individual panels at a custom height for balustrade, each panel fitted perfectly with easy install. We have just put in our second order for pool perf.
- Rowena Golledge
Manufactured from marine grade 5050 Aluminium a Pool Perf fence is as Durable and corrosion resistant as any fence could be. Powder coated on site in Our own Dulux accredited powder coating facility a Pool Perf pool fence mesh is built to last longer thanthe pool its surrounding. When it comes to a smart Inverstment and the safety of your family,look no further than the original and best Australian pool fence on the market , Pool Perf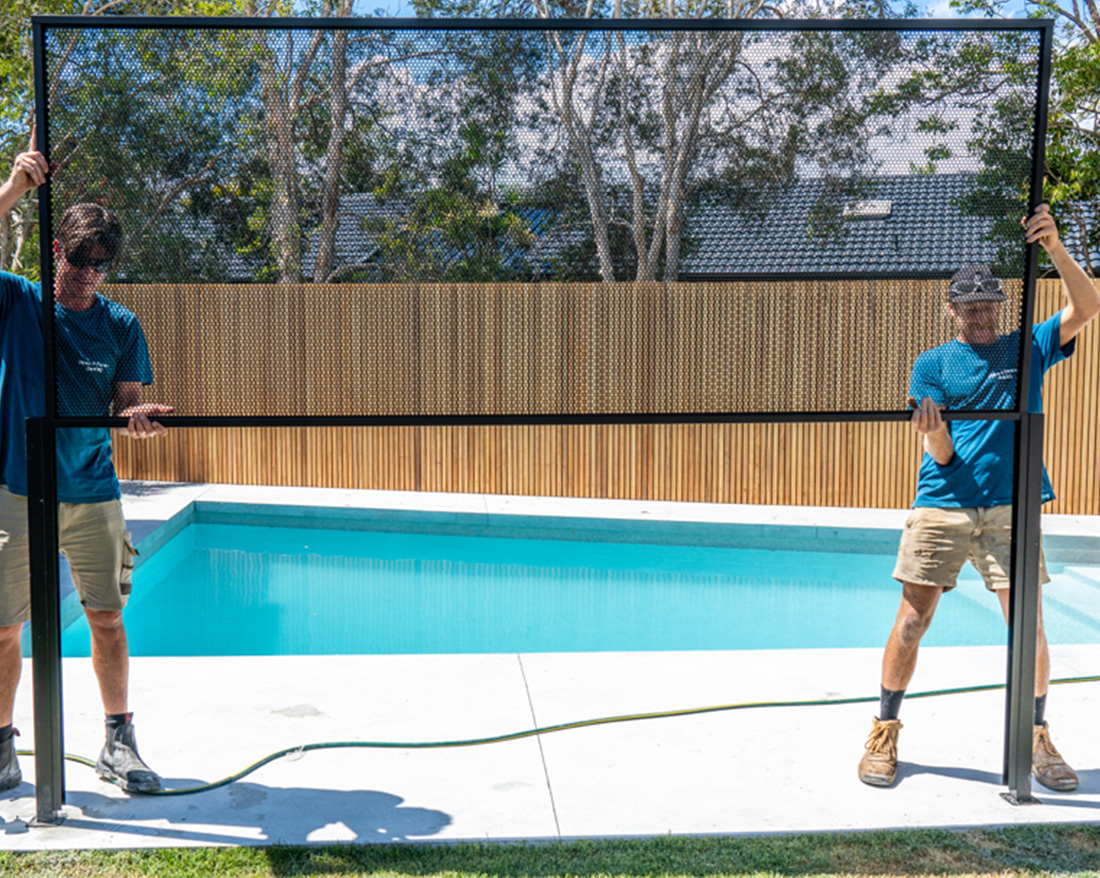 We have trade partner installers nationwide
Contact us today to find your nearest Pool Perf trade partner today
Ask your Pool Builder or Fence contractor to contact us about your Pool Fence.
All orders come with full instruction manuals for installation and assembly.
Our Pool Perf Channel Fit System is as easy as it gets when installing pool fencing. Simply screw the Pool Perf channel to posts and slide the panel in.
If you want to match existing flat top fencing we have our Fish Mouth bracket system that will work with any old flat top jail bar fence.

Dealers Nationwide
2/15 Distribution Ave
Molendinar QLD 4214

Showroom Open
Mon 8:00AM-4:30PM
Tue-Thu 9:00AM-5PM
Fri 9:00AM-3:30PM
Want to see more?
Check out www.decoviewscreens.com.au for laser cut screens, security screen doors, gates and so much more